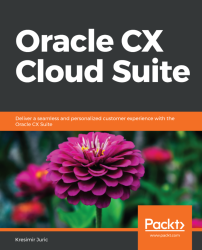 Oracle CX Cloud Suite
By :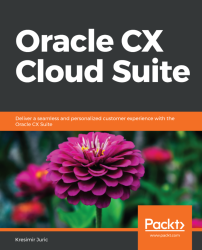 By:
Overview of this book
Oracle CX Cloud offers features and capabilities that help companies excel at sales, customer management, and much more. This book is a detailed guide to implementing cloud solutions and helping administrators of all levels thoroughly understand the platform. Oracle CX Cloud Suite begins with an introduction to high-level Oracle architecture and examines what CX offers over CRM. You'll explore the different cloud-based tools for marketing, sales, and customer services, among others. The book then delves into deployment by covering basic settings, setting up users, and provisioning. You'll see how to integrate the CX suite to work together to interact with the environment and connect with legacy systems, social connectors, and internet services. The book concludes with a use case demonstrating how the entire Oracle CX Suite is set up, and also covers how to leverage Oracle ICS and Oracle CX Cloud for hybrid deployment. By end of the book, you will have learned about the working of the Oracle CX Cloud Suite and how to orchestrate user experience across all products seamlessly.
Table of Contents (
15
chapters)