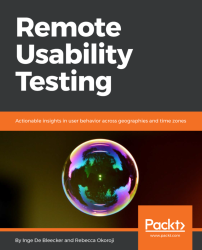 Remote Usability Testing
By :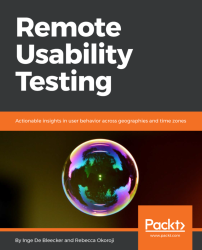 By:
Overview of this book
Usability testing is a subdiscipline of User Experience. Its goal is to ensure that a given product is easy to use and the user's experience with the product is intuitive and satisfying. Usability studies are conducted with study participants who are representative of the target users to gather feedback on a user interface. The feedback is then used to refine and improve the user interface. Remote studies involve fewer logistics, allow participation regardless of location and are quicker and cheaper to execute compared to in person studies, while delivering valuable insights. The users are not inhibited by being in a new environment under observation; they can act naturally in their familiar environment. Remote unmoderated studies additionally have the advantage of being independent of time zones. This book will teach you how to conduct qualitative remote usability studies, in particular remote moderated and unmoderated studies. Each chapter provides actionable tips on how to use each methodology and how to compensate for the specific nature of each methodology. The book also provides material to help with planning and executing each study type.
Table of Contents (
18
chapters)