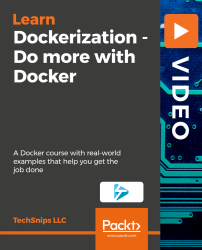 Dockerization - Do more with Docker [Video]
By :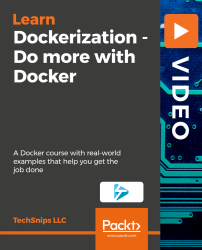 Dockerization - Do more with Docker [Video]
By:
Overview of this book
You've been using Docker to wrap your code into small containers or packets, along with everything that would be required for the code to run, following which you ship code to any system and deploy it easily. Now you want to go further and use Docker to boost productivity. You've come to the right place! This course takes you through the different types of built-in network elements and how to create custom networks. You'll learn how to link different Docker containers to enable them to talk to each other. Also, you'll learn to connect multiple Docker containers with the help of custom networks. Next, you'll learn how to define and run multi-container Docker applications with the help of the Docker Compose tool. Moving ahead, you'll learn to deploy WordPress, MongoDB, and MySQL server using Docker. Also, you'll learn to split an application into separate services that are loosely tied together, so they can be scaled vertically or horizontally. Finally, you'll explore how to use service discovery mechanisms to allow a Docker container to auto-discover other containers and communicate with them.
Table of Contents (
8
chapters)
This video will give you an overview about the course.