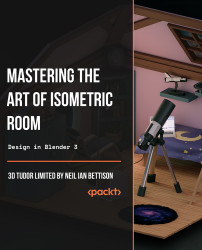 Mastering the Art of Isometric Room Design in Blender 3 [Video]
By :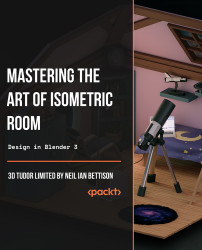 Mastering the Art of Isometric Room Design in Blender 3 [Video]
By:
Overview of this book
Welcome to this course, which will take you on a creative journey to build a stylized teenage room filled with intricate details. This course offers a step-by-step journey to build captivating isometric rooms inspired by the art style seen in the Sim City and Sims franchises. You will dive deep into Blender basics, materials and textures, seams, sharps, and UVs. We will guide you through a full reference guide for creating 3D art in games, allowing you to develop strong game asset concepts using Pureref. As you progress, you will learn to simulate cloth using Blender's particle system, creating realistic wrinkles, folds, and drapes that add a touch of authenticity to your designs. Compositing techniques will be covered extensively, enabling you to make your renders pop and enhance the visual impact of your creations. You will also master the art of lighting, utilizing three-point lighting and volumetrics to bring your 3D models to life and create breathtaking backgrounds for your portfolio. Throughout the course, you will harness the power of rendering in both Eevee and Cycles X, unleashing the full potential of Blender's capabilities. By the end, you will have developed a keen eye for textures and shaders and will be able to design isometric rooms in various art styles, showcasing your unique style as a 3D modeler.
Table of Contents (
21
chapters)
Apply textures to the base of the isometric room using Blender.